This blog post is based on the webinar by Anna, Customer Success Manager at TravelLine. It was devoted to ways to prepare your hotel for the summer season. Watch the webinar to find out how to drive users to the hotel website and what Booking Engine settings to make to turn users into your guests.
Share of direct bookings in hotels in different regions
There is no perfect share of OTAs bookings in a hotel's online distribution, as it depends much on the destinations and markets. TravelLine experts normally consider 30% of direct bookings to 70% of OTA bookings to be a good ratio.
TravelLine analysts report that in the APAC region, the share of direct bookings is less than 10%. In the EMEA countries, the online distribution looks a bit different. Hotels in some of these countries have less than 10% of direct bookings, while hotels in others managed to change this ratio in favor of their official websites. So, to improve the ratio and make it work for you, you have to be well aware of your hotel's booking distribution ratio.
Benefits of direct sales for hotels
Online Travel Agencies are important in every property's distribution strategy. Travelers search through different OTAs, then visit some official hotel websites before making a final decision. However, OTAs impose loyalty and mobile discounts, and visibility boosters that cut off your revenue from each booking, and it is important to analyze how cost-effective they are.
Let's look at a 100-dollar booking you get from an OTA. Loyalty discounts can reach 15%. Mobile users get a discount of 10%. Then, OTAs charge about 18% commission per reservation. In some countries, properties also have to pay VAT on the commission. As a result, the property gets 60 dollars for a 100-dollar reservation coming from an OTA. So, the hotel loses a solid part of its revenue.

Anna, CSM manager at TravelLine
According to the research by TravelLine Indonesia, website bookings leave OTA bookings behind at several metrics at once:
Average length of stay. Travelers book longer stays when they book on official hotel websites.
Average booking check. Travelers pay more when they book on hotel websites by getting room upgrades and extra services.
Average daily rate. ADR is higher if guests book on the hotel website. It happens either because of a rate disparity when rates in OTAs are lower, or due to the purchase of additional services.
One of the reasons why the ADR of direct bookings is higher might be a rate disparity — a situation when prices on the websites are higher than on OTAs. If you use TravelLine Booking Engine and Channel Manager, it is easy to identify reservations made at disparity rates on OTAs. Find the list of such bookings in TL Assistant. There are booking numbers and price differences between the booking platform and the official website.

Anna, CSM manager at TravelLine
Cancellation rate. OTAs generally have a higher cancellation rate. For instance, according to the 2022 Thailand figures, the hotel website's cancellation rate was 18% compared to 34% from OTA.
There are more benefits of direct bookings that are less evident:
Guest details. When guests book on your hotel website, it is the hotel, not the booking platform, that gets the guest's contact details that you may later use for hotel marketing campaigns.
User behavior. Another valuable source of information is the user behavior on your website that you can track in web analytics tools such as Google Analytics. They provide you with insights on user preferences and booking patterns.
Ways to encourage direct bookings on hotel websites
Make sure there is a rate parity. We should drive quality traffic to the website and provide at least the same booking terms as on OTA, or, in the best-case scenario, even better booking conditions than on OTA. Quality traffic and rate parity are the essential factors to succeed in increasing direct bookings.
Give discounts to loyalty users that book directly. If you apply loyalty discounts on OTAs, provide the same rates to your direct guests. For example, create a discount for logging-in on your website in TravelLine Booking Engine. When logged in, the discount will be applied automatically.
Another way to do this is to add a discount for frequent travelers who have a Genius status on OTA. This way, website users will be offered to enter the phone number to verify the Genius status.
If you use promo codes for marketing purposes, add a special discount opened with a promo code on the website. Go to the Room Management menu section and open the Discounts page to create all the discount types above.
Offer discounts to mobile users. According to TL Analytics, 50% of hotel website traffic comes from mobile devices. If you want to increase direct mobile bookings, we can add a special setting. The promo code is automatically entered in the booking form, and when someone opens the website on the mobile, the discount will be offered automatically.
Keep some availability to sell directly. During peak season, the most popular room types can be held only for direct booking. If the last year's statistics say that some rooms will be sold anyway, offer them on the website.
Another way to do this is to set availability restrictions for OTAs in the peak season and add a release period. For instance, as a hotelier, I can see there is high demand for the period from July 10 to July 30. I do not stop sales of all the rooms on OTAs for this period but I set a restriction: the last 3 rooms of Comfort and Superior room type shall not be offered on OTA for these dates. But if they are not booked on the website 1 day before check-in, they will be automatically available for OTAs. This feature is available in TravelLine Channel Manager.
Provide perks to users who book directly. If you have some perks or free services only for direct booking, highlight them when the users open your website. For this, use a pop-up widget on the website. They draw the attention of website visitors, which makes them perfect for placing such information as advantages of direct booking.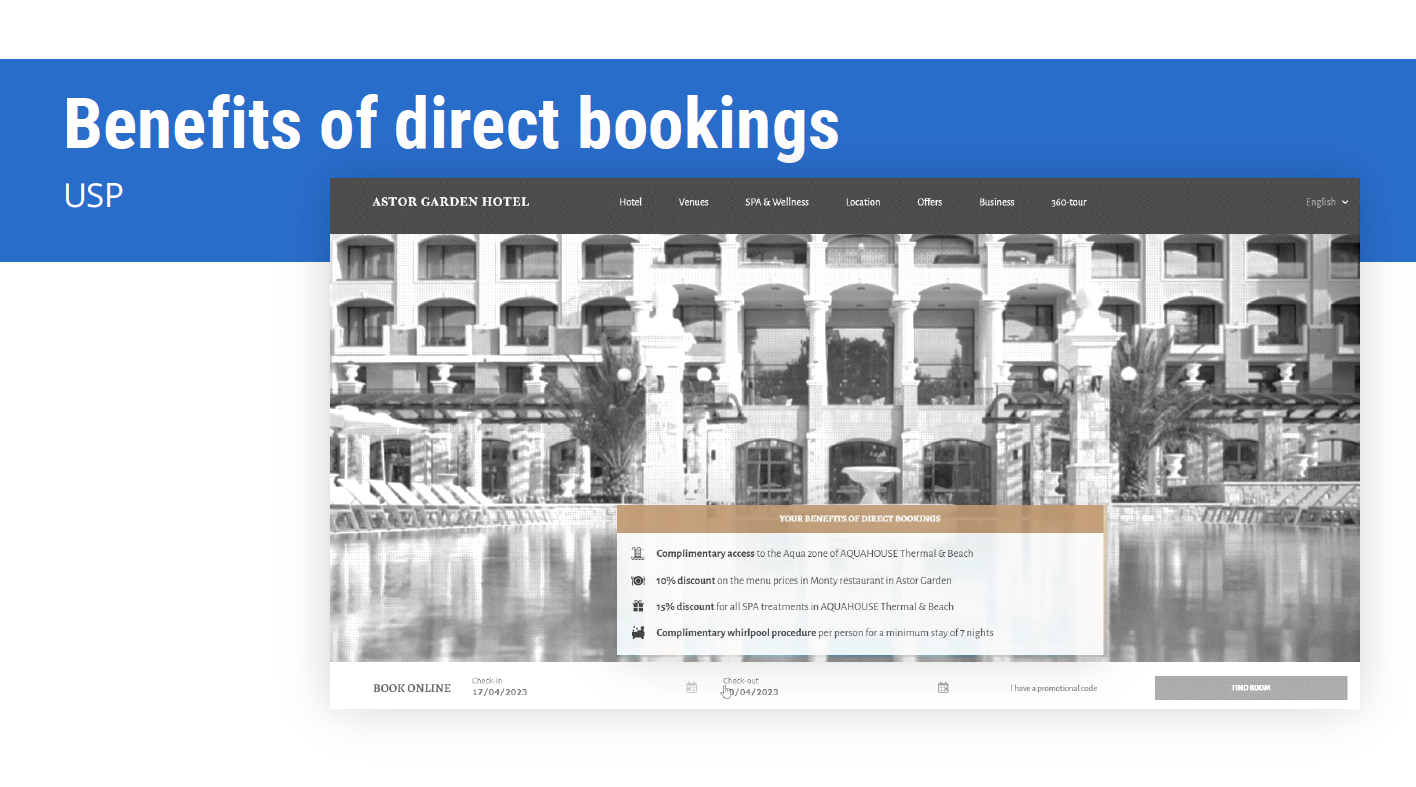 Still wondering what to offer as such a perk? One of our partner SPA hotels give free access to a salt cave only for guests who book directly on the website. Another hotel gives a free transfer to encourage guests to book directly on its website.

Anna, CSM manager at TravelLine
---
To drive direct bookings, you need a converting booking engine that lets you be creative with your rate plans and special offers. This is exactly what TravelLine Booking Engine is — a solution that turns website visitors into your hotel guests.
Learn more about Booking Engine