How to set accumulations and notifications in TL Loyalty program
Open "Guest management" > "Loyalty Program" section, the tab "Loyalty program settings".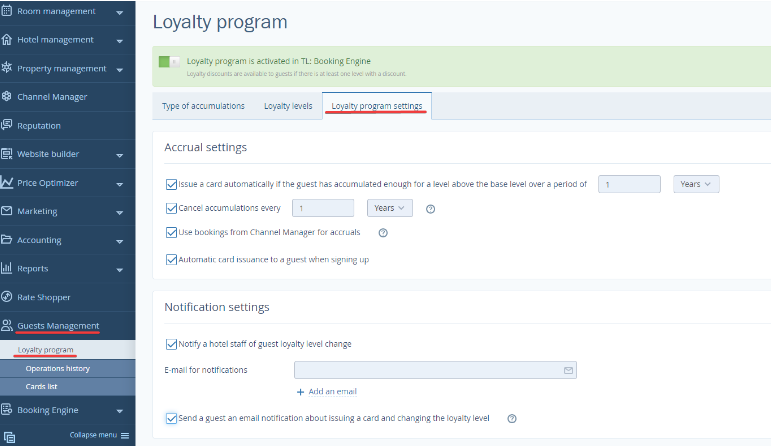 Accrual settings
There is a setting for TL WebPMS users that cut down the manual work. The card is automatically issued to the guest if he has accumulated the necessary number of nights or money for the selected period to escalate the loyalty level above the basic one. To do this tick the checkbox and select the period of accumulation.

If the accumulations should be expired after some period according to the loyalty program terms, enable accumulations cancellation and select the period.

If the guest does not move to another level during this period his accumulations are decreased to the previous level. At the maximum level the accumulations will be reduced if there are no new accumulations during the set period.
Loyalty program can take into account accumulations of bookings from TL Channel Manager. The guest is searched for by the customer's phone number.

Enable automatic card issuance to the guest to get a loyalty card when signing up.. Information about the loyalty card is displayed in guest's extranet at once.

Notification settings
If there is an employee responsible for the loyalty program in the hotel tich the checkbox and enter his email. This employee will get notifications about loyalty level changes.

Enable sending a guest an email notification about issuing a card and changing the loyalty level. Such email is as follows.

Notifications are sent immediately after changing the loyalty level automatically or manually.