Activity log in TL Price Optimizer
"Activity log" section displays action history on the selected day for the selected room type.
To see action history:

Select room type

Set review date

Select period of activity

Click on the "Find actions" button
There is action history and changes of price levels applied for the room type on the necessary date in the "Actions history" tab.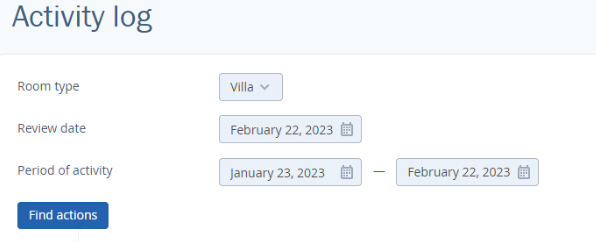 Action history includes the following points:

Date and time when changes are done

Change mode - displays which mode is used on price change. Note: this column will not appear if during the selected period prices are changed by the hotel or by the room type.

Price level.

User. There is a login name who has made changes or has approved the price recommendations. If TL Price Optimizer works in automatic mode the column "User" displays "automatically".

5. Action type can be "Approved", "Declined" or "Manual entry".