Hoteliers should be prepared to anything that might happen before the stay itself and just until a re-booking. To keep guests coming and to increase the revenue, you need to spot the flaws of the hotel website and improve it.
In the previous article we talked about the first three steps towards hotel booking and how to streamline the booking experience. In this one we will look closer at the next three:
4.Booking and making a payment;
5. Staying at a hotel;
6. Checking out.
4. Guest books a room and makes a payment
It is a pity to lose a guest at a last stage of booking. To prevent this, add as many payment methods as possible, let guests edit data without cancelling a booking and remind them about a stay before the arrival date.
Provide more payment methods
According to TravelLine analysts, most of guests make payments on arrival.
| | |
| --- | --- |
| Methods of payment | Percentage |
| On arrival | 53.54% |
| Bank card | 35,39% |
| Prepayment guarantee | 6,37% |
| Bank transfer by individuals | 3,75% |
| Bank transfers by legal entities | 0,88% |
TravelLine Statistics for 2021
The hotels that offer to pay on arrival get more online bookings. This payment method does not increase a number of no-shows, that is why it is better to provide this option in hotel booking engine. During the peak season, replace it with prepayment guarantee to ensure that guests will show up. It might be a certain percentage of total bill or a cost of one-night stay.
For those who book last minute, payment on arrival is the most suitable option. To make it available even during the peak season, set the "Last-minute offer" rate in your TravelLine account.
Remind to complete a booking
Set auto-sending for "unfinished booking" emails. They will be received by those who completed all but one steps of booking process. In the email tell about your hotel USP — Unique Selling Point or give a discount promo code. According to our reports, 8 out of 100 clients who do not complete booking, do so after they receive such an email.
Let clients edit the guest record after booking
Sometimes clients notice a spelling mistake or want to change dates of stay after they have completed the booking. Let them change data so that they do not have to cancel it and make a new one.
If there is TravelLine Booking Engine on a hotel website, clients receive automatically-created booking confirmation emails. In the email, there is an access code and links allowing to change data. The data that changes can affect depends on the payment method.
| | | |
| --- | --- | --- |
| Kind of data | Payment on arrival | Other payment methods |
| Dates of stay | Yes | Yes, if the amount of the bill does not change |
| Phone number,email, comments | Yes | Yes |
| Guest name | Yes | Yes |
| Room category | Yes | No |
| Rate | Yes | No |
| Cancel reservation of a room | Yes | No |
| Additional services | Yes | Yes, if the amount of the bill does not change |
If guests made a mistake in bank card number or its expiration date , you do not have to ask them to cancel the reservation and make a new one. Send them a "Request new card details" email, so that they correct the mistake on their own.
Send Welcome-emails
Those who book at refundable rate, often continue searching for cheaper options even after they make the booking. Those who booked a lot in advance might just forget about booking at all. To make sure both arrive, set "Welcome emails". Send them a couple of days before an arrival date to remind of:
dates of stay,
advantages of a rate,
services included.
This decreases a number of cancellations.
Provide online check-in
To avoid lines at the front desk, when groups of guests arrive, let clients check in by themselves online.
Attack check-in link in the welcome-email. By clicking on it, they will be able to fill in their passport details. The only thing left will be to get the keys at the reception desk.
5. Guest stays at a hotel
It seems that the purpose is achieved, but even at this stage you can build up customer loyalty and increase the revenue.
Offer additional services
Create a separate page for selling additional services on your website. Make them available even for those who do not stay at your hotel. You can provide the range of extra services: from meal option to leisure activities.
Offer additional services both online and offline. Stick posters with the link and service details next to the hotel. So far the most a hotel could make from offering additional services through TravelLine Booking Engine is 5.76% of monthly increment.
6. Guest checks out
You can turn guests into repeat clients and your property promoters even after they left.
Send Feedback-emails
Send Feedback-emails a few days after guests' departure. Express your gratitude for choosing your accommodation and ask to write a review or fill in the questionnaire. Offer a discount promo code that they can use themselves or give to someone else.
Start a personalized email campaign
To make the campaign more efficient, create a segmented customer base. You may categorize them into:
repeat customers,
business travelers,
guests with children,
clients living nearby.
Create separate special offer for each group: a discount for hotel stays or services, gifts on arrival, a weekend deal, etc. Send newsletters about local events and related special offers at your hotel. Your customers might take interest in some of them and book a room at your property.
In TravelLine there is a hotels' profitability department that is responsible for detecting problems hotel guests might have at every stage above. Since January 2018 we have tested 92 hypotheses and conducted 4.480 experiments to facilitate business growth of certain hotels.
Here is what we do: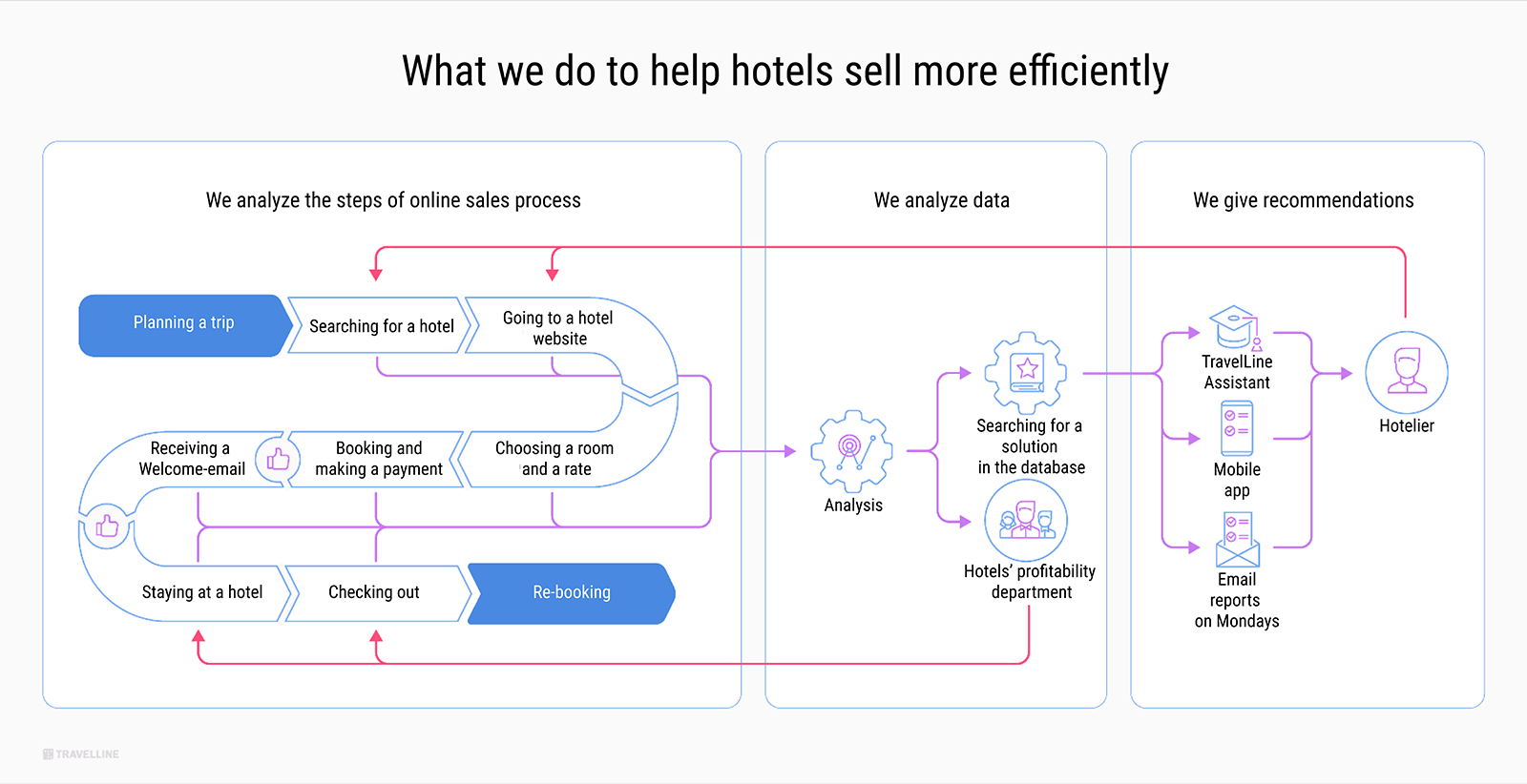 You can receive our strategic advice as tasks in TravelLine Assistant, notifications in TL Extranet mobile app or weekly reports.
We have made a checklist so that you check if your hotel sells efficiently enough online.