The snippet is a brief description of a web page that appears in search results. It helps users to understand the content of the website and decide whether to click on it.
Make the snippet more appealing by adding a page title, appealing description, and quick links. Such an extended snippet stands out in search results and generates more leads to a hotel website.
This snippet includes everything needed: the title, short description, and quick links.
One of the ways to add a snippet to a website is to add structured data. Let's dive deeper into what it is.
What is structured data?
Structured data are tags in the site's code that help search engines to make up a summary of a web page. Well-structured data raise the website in search engine ranking, thus attracting more users.
If you have never dealt with the website code, hire a professional.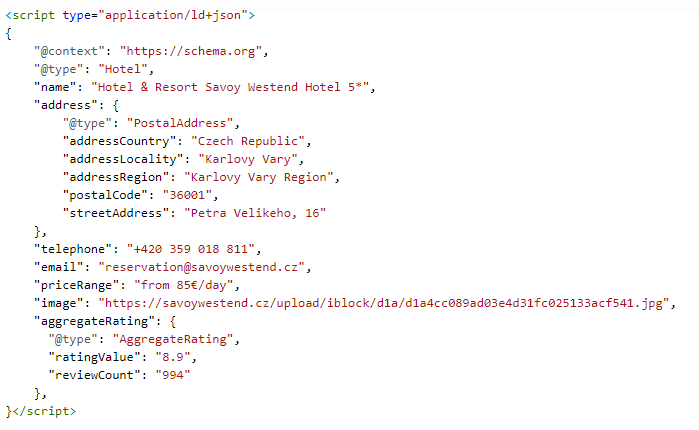 This is what structured data looks like in the website's code.
What is the markup for reposts in social media?
When you post a link to the website on social networks, they pull information from the website: its title, description, and photos. Add this microdata in the website code so that networks form a repost properly.
Go to OpenGraph.
Check the following tags:og: title, og: description, og: image.
Alternative: you can alter a page title, description, and image manually when reposting. However, such social networks as Facebook and Instagram do not support the editing mode.
The markup makes social media display an image, title, and description from the webpage.
How to add quick links?
Quick links make a snippet much bigger. Google itself selects pages that display in the section. It is difficult to influence the choice, but it still can be done.
Google reports that quick links are the pages that users visit the most. The only thing that you can do is to make the most important menu sections more prominent.
This is how Google search displays quick links.
How to simplify adding structured data to a website?
If you want to promote on Google, use the JSON-LD encoding method. This method is easier to manage, and the probability to ruin the code is less.
Use code generators like webcode.tools or technicalseo.com.
Apply Content Management System (CMS) plugins. For example, if your hotel website is created with WordPress, use WP SEO Structured Data Schema.
Visit the Google Structured Data Testing Tool to check if you have done everything right.
Besides structured data, monitor your Google My Business listing. See if there are any mistakes in Google Search Console.