There is not much time left to reach the full occupancy for Christmas and New Year's. At this point, your target audience is travelers that are used to booking rooms no sooner than a month beforehand. If you still have not started the winter holiday marketing campaign, make use of this guide put together by the TravelLine team.
Holiday specials and sales
Google reports that these days, travelers are planning domestic trips instead of international ones for this winter holiday. 40% of travelers fr om Europe, the Middle East, and Africa and 50% of travelers globally plan to travel within their own countries.
For this reason, when you create a holiday offer, do not miss out on domestic clients. International and domestic guests are two big groups of guests; distinguishing them makes special offers more effective. The more specific groups you find inside these two, the better.
Your potential guests browse several hotels before making a booking decision. That is why this is a good idea to check what your competitive hotels offer in their holiday packages. Make sure you have a better deal than the competitors and OTAs.
Another way to capitalize on the winter holiday is to sell hotel gift vouchers. As 'revenge travel' is on the rise, travelers are likely to book hotels for themselves as well as for family and friends to make up for all the months spent at home.
Worldwide statistics on the 'hotel gift voucher' search query in Google Trends
Why opt in hotel gift voucher sales:
They contribute to your cash flow here and now.
Vouchers give your guests more flexibility as they can choose arrival date themselves.
They allow you to cross-sell the hotel extra services like dining or SPA treatment on-site.
You secure yourself fr om refunds by selling gift vouchers, as they cannot be canceled.
Gift voucher wizard in TravelLine Extranet
Winter holiday-themed website
It is better to gather your winter holiday offer on one clearly laid-out page. Website visitors should know exactly wh ere to browse to book a stay. It can be a separate landing, a section, or a part of the "Special offers" page. You can set a widget that will lead to the special offer from the homepage of the website.
Setting a special offer widget is the least time-consuming of all the options mentioned above.
To make your website stand out, make it festive and fun. It can be a holiday banner image or a snow animation but keep in mind that the ornament should be relevant to your target market. Think what works better for the older audience, families with kids, couples on a romantic getaway, or groups of friends.
A cherry on top of this all is seasonal imagery. If your hotel is located in a region wh ere scenery changes with seasons, upload winter photos. They will help potential guests feel what it feels like to stay at your hotel during the winter holidays.
Waldkrieber hotel in Austria uploaded this photo to attract guests in winter.
Promotion of the offer
My tip is a simple and personalized promotion via email, Google services, and social media.
The basic structure of a promotion copy:
An incentive: a discount or a perk
A promotion period: clear-cut dates of booking and stay
A call to action: "get 10% off", "book now", "get SPA treatment for free", etc.
A link that leads directly to the special offer page.
Via email
Pull out a database of guest emails that already stayed at your property. Offer them the deal before it goes public. This will increase guest loyalty and bring back those who booked on OTAs at website rates. Make sure you do not send promotional emails to guests that already booked a stay to prevent cancellations.
Some more lifehacks:
Use power words like 'hot deal', 'limited offer', or 'discounts' in the subject line.
Put your offer above the scroll at the very center to make sure customers see it.
Use photos of your property in the winter scenery to manage guest expectations.
Make your call-to-action button stand out from the rest of the email.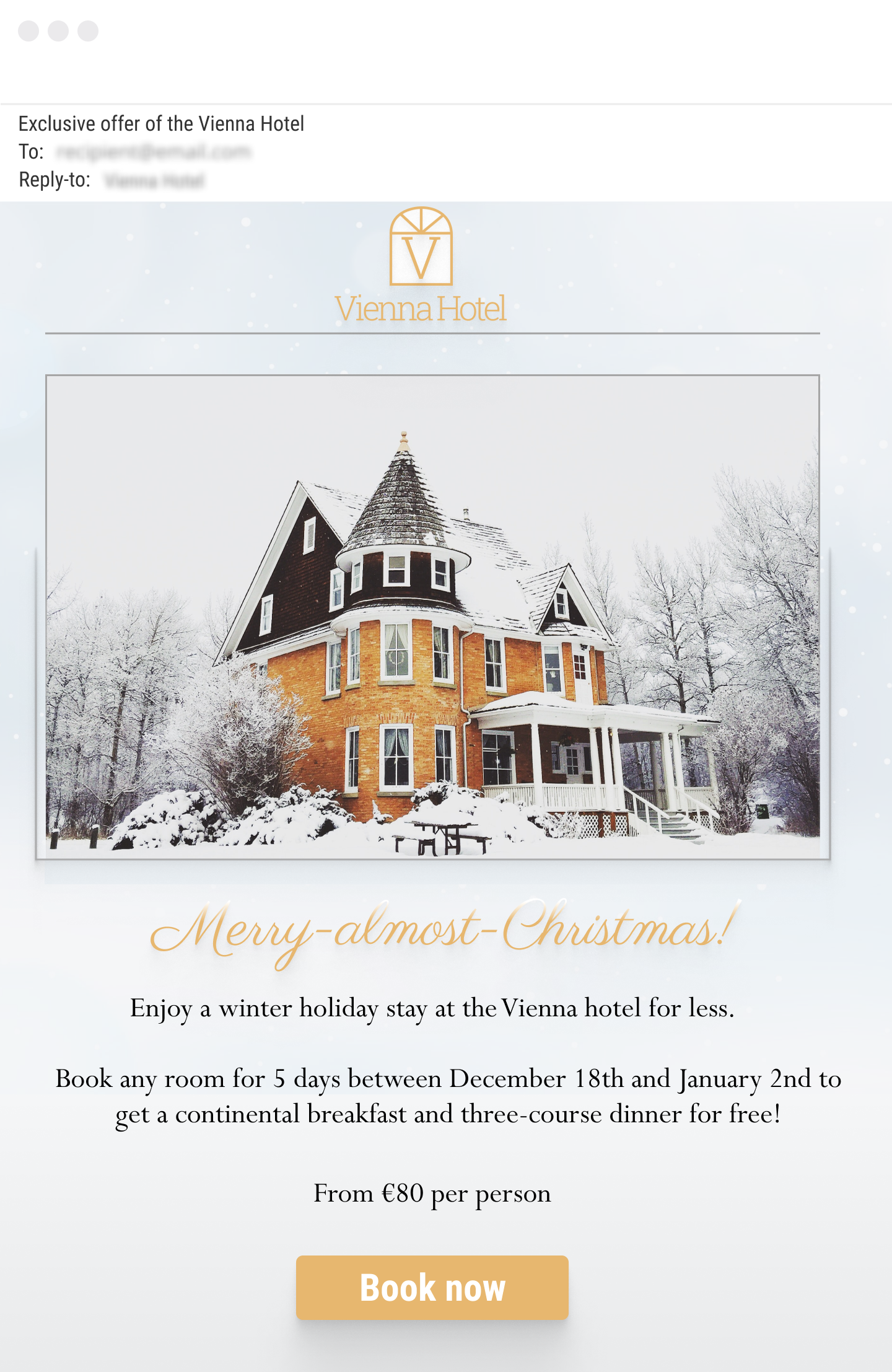 Here is how a special offer email from a hotel can look like.
In Google services
There are two main Google services that you can use to promote special offers: Google My Business and Google Ads.
In Google My Business: find the "Posts" tab in your GMB dashboard. From there, you can create an "Offer" or a "What's new" post. When creating "Offer" posts, you can set a timeframe. "What's new" posts expire every seven days. If your special offer lasts longer than that, regularly repost it.
In Google Ads: add promotion extensions to your Google Ad. It has all you need: a list of occasions to choose from, different promotion types, indicated promotion period, and a URL to get redirected to the hotel website.
On social media
Apart from posting about an offer on social media, you can do a little more to share your festive spirit and encourage guests to spend holidays at your property. Here are some ideas of what you can do:
Post photos and videos of your decorated hotel.
Customize cover photos of your property's accounts on Instagram and Facebook.
Use holiday-related hashtags to get higher outreach.
Savoy Westend Hotel posted a video of decorating a Christmas tree to show off the holiday decorations.
On-site perks

Remember that guests that stay at your property during holidays miss out on festive holiday dinners with family and friends. If you have a hotel restaurant, consider adding holiday-themed food and beverages to the menu. This can be your holiday Unique Selling Proposition, so feel free to post the menu and photos of this food on social media.
Being a local citizen, you know best how to spend winter holidays in your city and can give insider recommendations to your guests. This is it — a personal touch that will make your customers grateful. Think of places that your target market would enjoy, and tell them via messages or in-room flyers.
These can be
Christmas markets
last-minute gift shopping places
ice skating rinks
holiday concerts and plays.
This is a text message that I once got from a hotel.
---
Out of the four fields of work that we mentioned, the TravelLine team can take over three: online sales, hotel website maintenance, and hotel marketing. Apart from these, we set up a digital workflow, reputation, and revenue management for you within the TravelLine "All in one" solution. It combines all of our services and the ongoing expert analysis and recommendations.
Learn more about the "All in one" solution