Hotel customer loyalty programs are beneficial for both hoteliers and travelers. Guests get cool perks like discounts, while you get more repeat bookings.
In this post, we will answer the most frequently asked questions about hotel loyalty programs and give advice on how to automate them.
What is a hotel loyalty program
A loyalty program in a hotel rewards guests that frequent the hotel already and encourages them to book more often. It serves as a way to start long-term and trust-based relations with clients.
The major goal of a hotel loyalty program is to increase the number of repeat guests by offering an incentive scheme: discounts, perks, or free extras.
A guest who is engaged in your loyalty program is more likely to remember the discount and choose your hotel instead of a competitor for the next trip.
What is the profit of hotel loyalty programs
Retaining guests costs less than acquiring new ones. The hotel ultimately earns more because it spends less on promotion and targeting new clients.
A 5% increase in customer retention produces more than a 25% increase in profit.

According to a study byBrain&Company
What are the different types of hotel loyalty programs
There are three of them:
Discount programs. The discount rate depends on the number of nights guests stayed at the hotel or on how much money they spent. For example, for 10 nights you can give a 10% discount, for 20 nights — a 20% discount, while for 30 nights — a 30% discount.
Point programs. In this case, for bookings, guests get points that they can redeem for services or discounts.
Free services programs. This type of program implies that the hotel decides for itself what to reward for: a long-term stay or a repeat booking.
What type of loyalty cards to use: virtual or material ones
We recommend virtual loyalty cards because guests might lose the material one or leave it at home. The virtual loyalty card is tied to a phone number, and it lets you easily monitor track points/nights and assign loyalty levels.
Guests do not have to actually present a virtual card. If they book online, they log in with their phone numbers in the Booking Engine. If they book at the front desk, they need to say their phone numbers to earn loyalty points or get privileges.
What discount rate to assign to each loyalty level
To make calculations right, you need to know the average bill and the booking margin. Taking the discount into account, you still should not go negative.
Most hotels choose the discount rates of 10%, 15%, and 20%. Some of them raise it to 50%, and, of course, their loyalty programs are more appealing to guests. In this case, calculate the booking margin. You should not lose the profit margin through discounting. Otherwise, you will not manage to save anything on acquiring guests.
How to assign loyalty levels to guests
First, you need to find out how many nights and how much money guests spend at the hotel. To do this, pull data from your PMS for the last year and find the number of guests that stayed with you one, two, three times, and more.
Determine to which guests you want to give discounts. We recommend rewarding guests that stayed with you two, three times, and more.
If you use TravelLine WebPMS, you can assign loyalty levels to guests automatically with TravelLine Loyalty.
How to manage bookings on mobile devices in TravelLine WebPMS →
TravelLine Loyalty is a loyalty program management system in TravelLine Booking Engine.
It allows automating the hotel loyalty program and giving guests personal discounts depending on the earned points or nights spent.
For example, 1000 guests stayed at your hotel. In the TravelLine Loyalty Wizard, you created 5 loyalty levels. TravelLine Loyalty will automatically assign levels to guests depending on the money or the nights spent.
This is what level distribution in TravelLine WebPMS looks like
How does the loyalty program management system by TravelLine work
Guests open TravelLine Booking Engine on your hotel website, sign in with phone number, and get discounts depending on assigned loyalty levels.
When booking in TravelLine Booking Engine, guests will see prices at the discount rates corresponding to their loyalty levels.
The loyalty program management system by TravelLine automatically issues virtual loyalty cards, ties them to phone numbers, and tracks the points or nights that have been redeemed.
So far, TravelLine Booking Engine has only a discount program, but we are already working on the point program as well. Guests engaged in the point program can earn loyalty points and redeem them for accommodation and services.
How to launch the loyalty program management system TravelLine Loyalty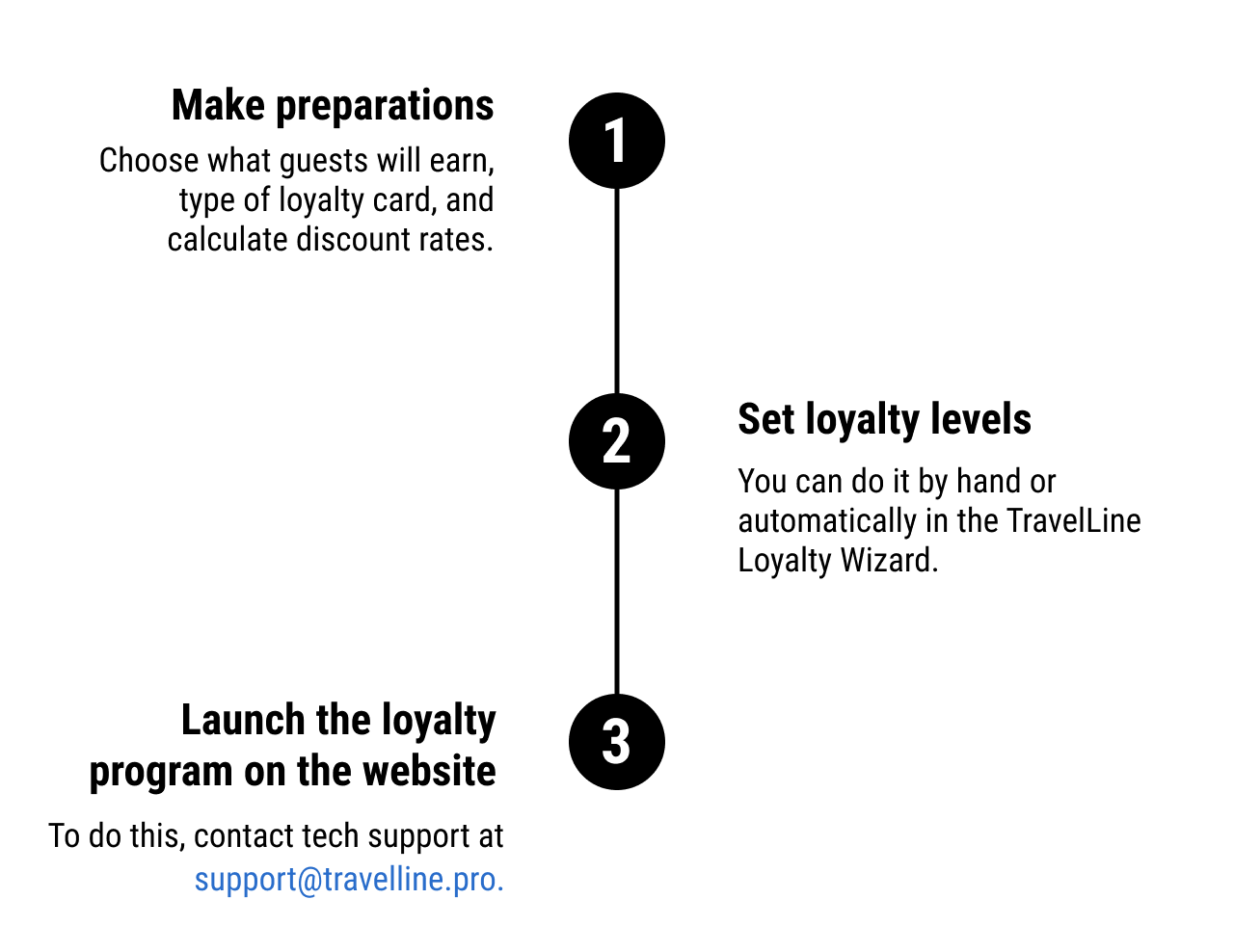 The last step is to promote the loyalty program on the website, on social media, and in newsletters.
How to let guests know that there is a loyalty program in the hotel
The most effective way is to send them emails. In its text, describe the loyalty program terms in detail: how to get a discount and what are the loyalty levels. Finish your email with the link to the Booking Engine so that the guests could sign in with their phone numbers and get started with the loyalty program.
It is important to create a separate page on the hotel website with the loyalty program description so that everyone could get familiar with it. Learn about five more ways to promote hotel special offers.
What do you need to get started with TravelLine Loyalty
You will need two solutions:
Either of two Property Management Systems: TravelLine WebPMSor Fidelio + Bonus Point
The loyalty program is a part of TravelLine Booking Engine. It works best with TravelLine WebPMS: automatically assigns loyalty levels, and gives out loyalty cards based on the booking history stored in TravelLine WebPMS.
Another PMS that can be connected to TravelLine Loyalty is Fidelio integrated with Bonus Point, and we plan to extend the list.
Bonus Point is software integrated with Fidelio PMS that allows managing loyalty levels.
How much is TravelLine Loyalty and how to get started
TravelLine Loyalty is included in the TravelLine Booking Enginerate. If you already set up the Booking Engine on your hotel website, you do not have to pay for the loyalty program management system separately.
---
Leave a request for TravelLine Loyalty at support@travelline.pro, and we will contact you.