Dynamic pricing and revenue management are two terms that are often confused by hoteliers. Moreover, the subjects themselves cause many questions: what accommodations need them, or when and how they should be applied.
In this article, we are sorting them out.
What is revenue management
Revenue management is a more wide-ranging concept than dynamic pricing. Depending on a hotel, revenue management can consist of a whole variety of business processes, but it never limits itself to dynamic pricing.
The foundation of revenue management is the analysis of hotels' revenue and occupancy performances, including the analysis of occupancy dynamics, studying of the demand, and the comparison of actuals and budget.
What is dynamic pricing
Dynamic pricing is a part of revenue management. This concept is narrower, but it still consists of several constituents.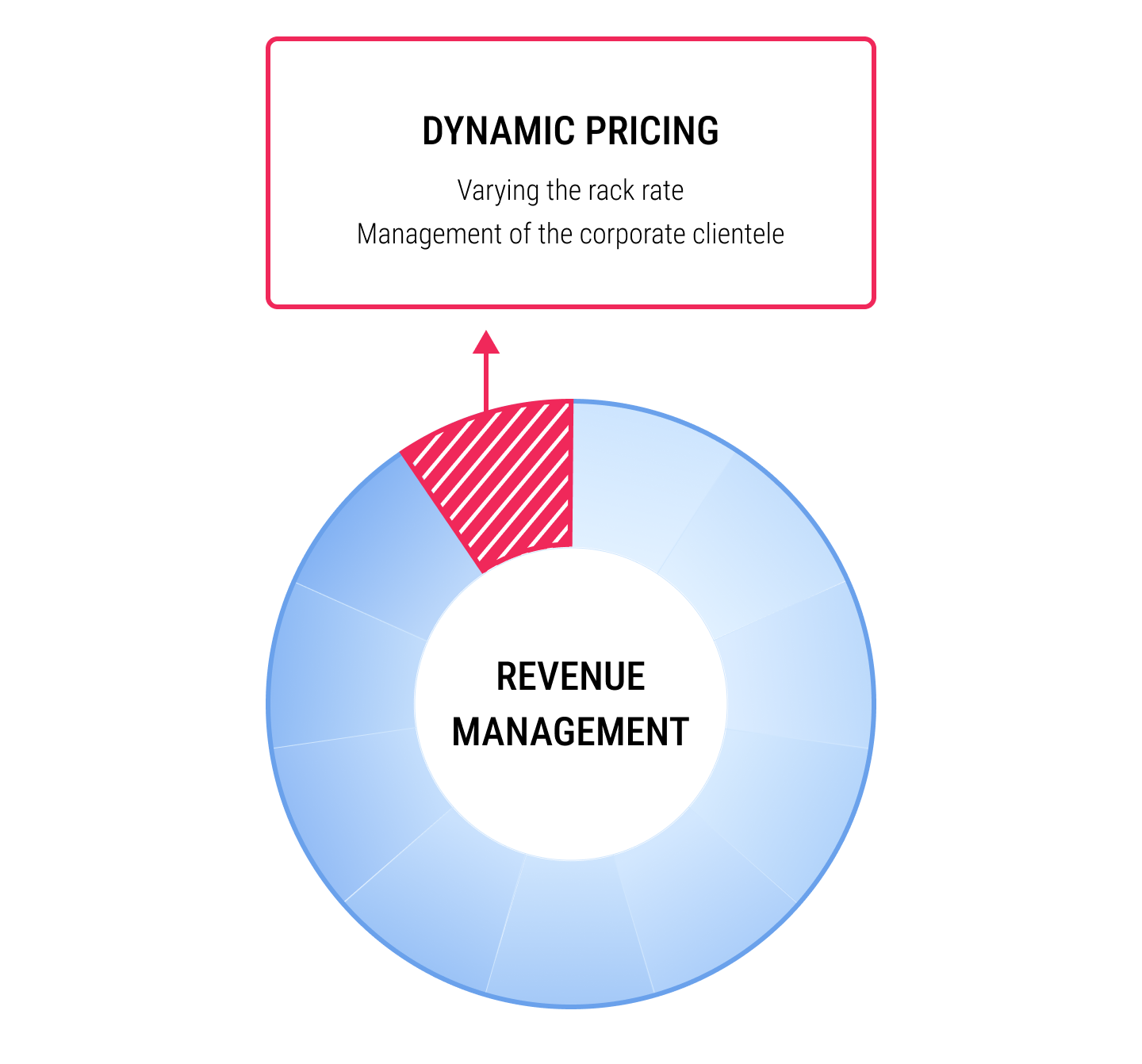 Firstly, dynamic pricing is about changing your rack rate — the published rate for one night's stay without discounts offered on the hotel website or other direct points of sale.
Sometimes, the smallest increase in room prices, for example, by 3-5%, completely scares guests away. Or things happen the other way around — the discount rate of 3-5% helps hotels sell a bulk of last-minute offers.

That is why hoteliers often come up with a question: It is better (easier) to just indicate a flat rate — the price that will for sure bring your guests, and keep it no matter the season and demand. Unfortunately, one size doesn't fit all — everything depends on your specific situation.

Irene Mushchinkina, TravelLine Customer Success Lead
Secondly, it is about setting closed corporate rate plans for a long period of time, for example, for a year, for a specific event, or for a group of business travelers. For most hotels, demand changes in different seasons, so it is okay to offer different rates for the same corporate groups during peak and low seasons.
What to do during low seasons or at times of low demand →
Let's have a closer look at the dynamic pricing of the Rack Rate: the way it affects the hotel and guests, whether or not you have to manage it, and how to do this efficiently.
How the Rack Rate works
In case the Rack Rate is solely dependent on the occupancy, the hotel's pricing strategy becomes conflicted.
The first principle of dynamic pricing that I've learned about is "The higher the occupancy, the higher the prices". Since then, I very much doubt this principle. Does this mean that as soon as the occupancy goes up, we raise the prices on the website?

And what if the occupancy increased because of a group of corporate guests that booked at a discounted rate, and there were absolutely no bookings on the hotel website? Is the price increase going to help?

Or let's take an opposite example. The occupancy has drastically dropped, for example, that same very corporate group has cancelled. Is this the reason to sell rooms at a lower rate? Why do that if there is still demand? And what is going to happen when guests that already booked at higher rates see the updated prices on your website?

Irene Mushchinkina, TravelLine Customer Success Lead
Conflicts of the "The higher the occupancy, the higher the prices" principle
Having the highest and lowest price points
The same very hotel room cannot cost either $30 or $140 at different times — such a price range affects both the hotel's financial performance and its reputation.
If users are about to make a booking decision, but the next minute/day, the price goes up drastically, they are very likely to have a negative impression of your hotel and choose another one.
Not being applicable for B2B sales
Usually, in business hotels, a share of corporate bookings exceeds direct reservations. If the hotel has low occupancy and a low rack rate for distant dates, it is not possible to sell rooms to business groups at a higher rate.
You can spend hours explaining that your pricing is dynamic, it will go up by their check-in date and be higher than their initial commercial offer — your partners book here and now. They see today's offer and expect a discount, not an extra charge.
Conflicts of the "The lower the occupancy, the lower the prices" principle
This principle usually does not make sense. If there are no bookings, and the hotel lowers prices, this means that it fixes mistakes in pricing instead of following its strategy.
If you provide for price lowering in case the occupancy drops, you need to prepare for negative consequences:
Unhappy return guests
Lower RevPAR
Сomplications of further price increases
Guests get used to waiting for prices to go down or just refuse to ever pay more than they once did during sales.
How to stop resourcing to price decrease
It is not easy to implement this principle. It is simpler for business hotels, as their prices almost never stimulate business demand.
At the same time, resorts sometimes need to fill vacant rooms here and now. For example, it is peak season, but the hotel has rooms left. Then, it lowers rates and quickly sells the rest of the rooms or misses on the chance and stays half-empty.
In this case, it is better to be resourceful and not to cause complaints from guests that already booked and now expect to have their room fees recalculated.
There are six ways to do this:
Send a special offer to return guests or users that did not complete bookings in your Booking Engine
Create a promotion campaign through a tour agency or a tour operator
Start short but profitable sales and an efficient ad campaign to sell all the rooms within a day or two
Be proactive: offer guests who already booked room upgrades or free nights as you post new prices on the website
Remove some included services from the new offer so that it looks different, but guests still find it a good deal
Create a new "Promo" or "Economy" room category and sell them at lower prices.
Dynamic pricing is a complex but integral part of hotel revenue management. You need to pay much attention to the dynamic pricing, but do not base the entire sales on it.

A hotel should stay within its price category. The main goal of dynamic pricing is to help you boost revenue, not cause you problems.

Irene Mushchinkina, TravelLine Customer Success Lead
How the Flat Rate works
A Flat Rate stands for a fixed price. On the one hand, Flat Rate is less conflicted and has some advantages. It is the most convenient one for budgeting, travel agency distribution, and corporate sales. Despite all the advantages, Flat Rate is not a revenue management tool.
How to efficiently implement dynamic pricing at your hotel
When you implement dynamic pricing, stick to seven base rooms.
1. The highest and lowest prices should differ by 20-25%
The price range shall not be too large. Price movements in popular rates should stay within 10-15%.
2. The lowest price should be compatible with a corporate discount
Setting the prices for your lowest occupancy, keep in mind that they should be high enough for you to keep giving corporate discounts and pay commissions to your distributors.
3. The prices should only go up
Do not resort to lowering prices on any conditions. It is better to keep the same prices for a longer time and not increase it at all instead of increasing and decreasing them repeatedly.
4. The prices go up depending on the demand
Stay occupancy-navigated, not demand-navigated. By this, we mean to maintain the same prices when the demand goes up or is unstable — and increase them if the demand of the B2C market raises.
5. Price increment shall be no more than 5%
The increment should be as low as possible. If necessary, you can increase the prices by several increments at once.
6. Dynamic pricing should not be managed automatically
You need to monitor the market and make pricing decisions based on that.
7. Act systematically, not emotionally
This means that you have to calculate the effect of each act and analyze the consequences.
Dynamic pricing is still useful. For example, price fluctuations motivate guests to make their bookings as fast as possible.

If a traveler monitors hotel prices to book summer vacations for several weeks in a row, they have no motivation to book right now. When there is a small raise in price, the traveler is more likely to book faster fearing the prices to go up again. But your entire revenue management should not be focused on dynamic pricing.

Irene Mushchinkina, TravelLine Customer Success Lead
---
To set prices correctly, it can be useful to know the prices of your competitor hotels. TravelLine Rate Shopper makes it more convenient by selecting competitors and deciding on the monitoring period.
Learn more about TravelLine Rate Shopper
Irene Mushchinkina, TravelLine Customer Success Lead